Welcome To The Coca-Cola Compassion Lab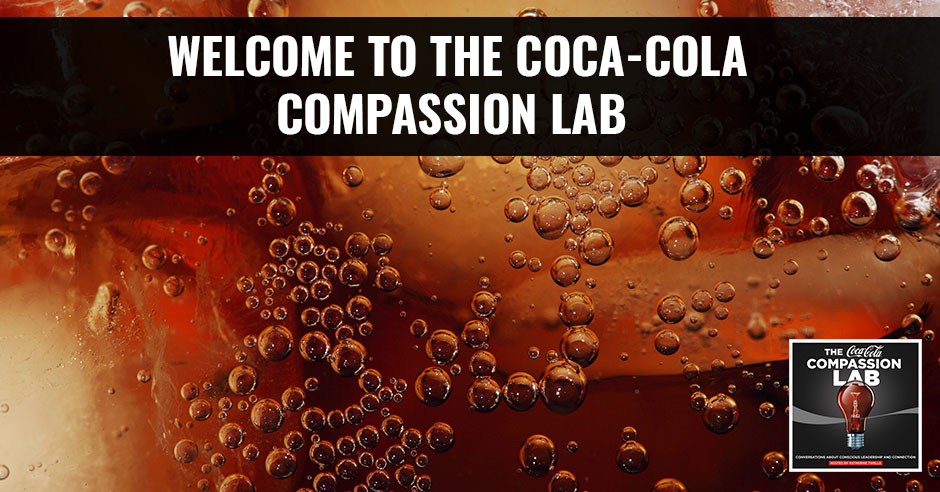 Welcome to The Coca-Cola Compassion Lab! Yes, the name of the podcast has changed but make no mistake, our purpose and content will stay the same. Listen in as Katherine Twells discusses this meaningful and timely change and why it's happening for the podcast. See you in The Lab for more great conversation!
—
Listen to the podcast here
Welcome To The Coca-Cola Compassion Lab
Our Name Is Changing But Not Our Content
I wanted to take a moment on this episode to share a bit about the evolution of this show. I believe some of you have been with me since the early days and many others may simply find us at random. That's the beauty of technology. You never know who might find a conversation. I wanted to share a bit of history and how we are evolving the conversations that we have here. The CMO Summit began as an event in 2011 with the intention of creating a space for connection, for inquiry, for people to explore different ideas, and raise our collective wisdom. It ran for about nine years. We welcomed some incredible speakers and guests and saw the summit community grow over time.
The summit ended when the pandemic began, as many events did. While many of them were returning, we took a different approach and started a new program called the Coca-Cola Compassion Lab. This is an effort inside Coca-Cola to cultivate emotional resilience, well-being, and conscious awareness. We know that we create a ripple effect, so we're going to continue to talk about how we take wise actions for a positive impact.
Part of living is in the experiments, the mistakes, the challenges, and in all the ways that lead us to our better wisdom.
Click To Tweet
The show will mirror this internal initiative, and it's going to be called the Coca-Cola Compassion Lab. The name is changing, but our content is not. We've covered a lot of different subjects with different guests on this show. We're going to remain focused on elevated leadership, interconnectivity, and ways to live a more powerful and compassionate life. It's a never-ending journey to ask questions about what we don't understand and how we can be better humans.
One of the things that are the most beautiful part of our nature is we're always evolving into something new, not just every day, but every single minute, we can choose differently. In the last couple of years, they've changed us, and that's been different for everyone. No matter your circumstance, it's very likely that you're asking new questions about your life, how you're living, who you want to be, and the relationships of all the people you love and connect with all the time.
While we can't control what happens and what's going to come our way, we can control how we respond. I know we've heard this a lot, but we have far more agency in situations than we often think we do. In order to cultivate that strength, it requires some inner work and intention to shine a light on what we believe, what we fear, and even the ways that we don't see our own greatness in our incredible potential. I believe we all have such potential and power to do amazing things in our lives.
In the last few years, they've also highlighted how much we're all connected. We are a global community. What we do has an impact on others. This is even more of a reason to examine our choices and raise our level of conscious action so that we all move forward to create something wonderful. Let's remember that compassion always begins with ourselves. We're all finding our way in this crazy world together. We don't have all the answers, and if we did, it would not be near as interesting. A part of living is in the experiments, the mistakes, the challenges, and in all the ways that lead us to our better wisdom.
Perhaps with a little more kindness to ourselves and others, we can explore entirely new ways of living our lives. When we understand that we're all connected, we know that the efforts we make within ourselves impact the whole for the better. Don't just do it for you, do it for all of us. What an amazing journey we get to experience. Thank you again for reading. I wish you everything good and expansive as we all create the new world together. May you believe in the potential that you are. May you believe in the goodness and the light that you are. May we all take action in the world to make it a more beautiful and connected place. See you in the next episode for more great conversations.
Love the show? Subscribe, rate, review, and share!
Join The Coca-Cola CMO Leadership Summit Podcast community today:
Change, Coca-Cola, Compassion, kindness, leadership, personal development
---